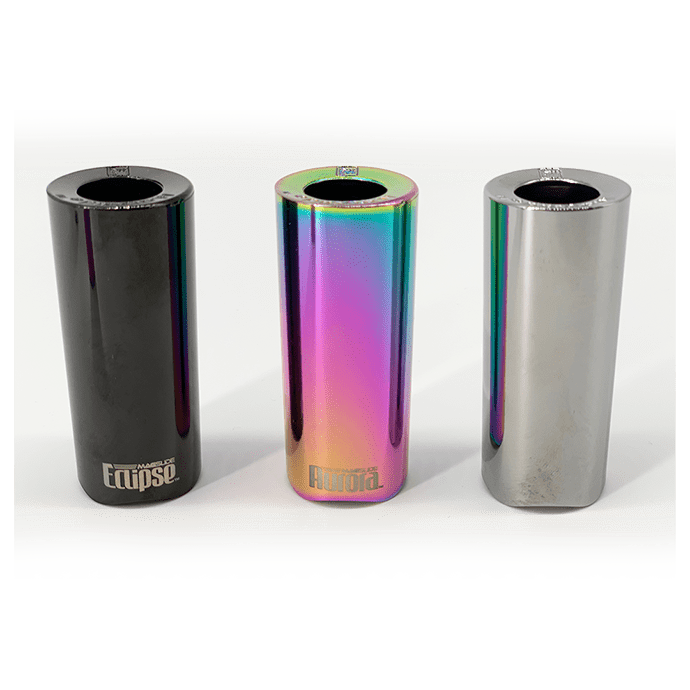 MagSlide "Medium-Large" Trio Special
The MagSlide "Trio" includes the original "Chrome, the Black "Eclipse" with a "DLC" finish and the Multicolor "Aurora" with a "PVD" finish.
The triple plated "Black Chrome" MagSlide is plated with a layer of copper, a layer of nickel wiith a top layer of a smokey "Black Chrome" which produces a warm, glass-like tone with minimal string noise and a remarkable amount of sustain.
The "Aurora" has an additional "PVD" finish on top of the chrome which also produces a glass-like tone similar to the "Black Chrome" plating.
The "Eclipse" has an additional Black "DLC" (Diamond-Like Carbon) finish on top of the chrome which produces a slightly warmer more ceramic-like tone according to most players.
(MEDIUM - LARGE)
Ring Size: 9.5 - 11.5 (Medium - Large)

Weight: 1.3 oz.
Lenght: 2.63" (66.8 mm)
OD: - 1.09" - 1.15" (27.69 mm x 29.21 mm)
ID: .760" - ."840" (19.3 mm x 21.34 mm)